British Standard Pipe Thread
The threaded part(s) of plumbing fittings are made to a British Standard Pipe Thread size (BSP).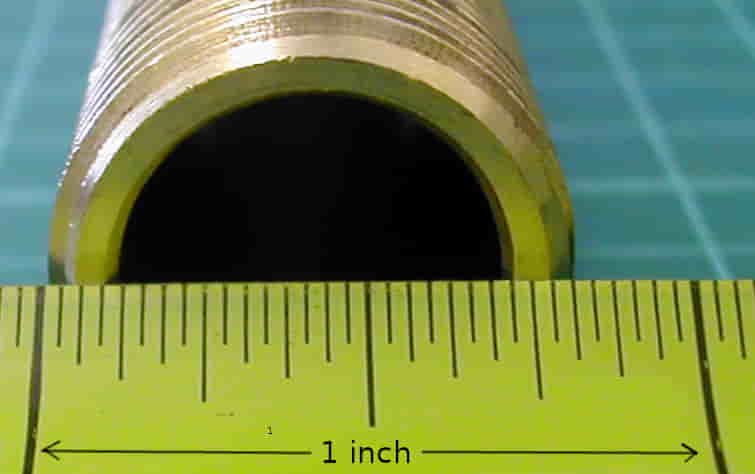 BSP sizes don't match up with what you measure on the scale of a ruler, which can obviously cause some confusion. For example a 1/2" BSP thread (see above) actually measures more like 3/4" with a ruler.
The size was originally based on the inside diameter, measured in inches, of a steel pipe for which the thread was intended. This is the source of the confusion, as people think the size refers to the outside diameter of the male thread.
Two types of threads are used:
Parallel (straight) threads, British Standard Pipe Parallel thread (BSPP).
Taper threads, British Standard Pipe Taper thread (BSPT). Just to confuse things, often the T in BSPT refers to Thread and doesn't indicate either Taper or Parallel.
Typical sizes and uses are :
1/4 Inch BSP - Compressed air connectors.
3/8 Inch BSP - Central heating oil line connectors, some European toilet cistern fill valves (not common in UK).
1/2 Inch BSP - Bathroom basin taps and kitchen sink taps, radiator connections, shower hoses, old outside tap outlets, toilet cistern fill / float valves.
5/8 Inch BSP - Old outside tap outlets (we have an adaptor for this size).
3/4 Inch BSP - Bath taps, washing machine inlet hose connectors, modern outside tap outlets.
1 Inch BSP - Domestic heating boilers and hot water cylinders, urinal flush valves.
1-1/4 Inch BSP - Wash hand basin wastes (bathroom sink).
1-1/2 Inch BSP - Kitchen sink wastes, bath wastes, toilet syphon outlets, central heating pumps.
2-1/4 Inch BSP - Immersion water heater elements.
The BSP to mm conversion chart below shows metric and imperial dimensions for male threads and the number of threads per inch (TPI) :
British Standard Pipe Thread Sizes

| BSP Thread Size | Outside Diameter mm / inch | TPI |
| --- | --- | --- |
| 1/16 Inch BSP | 7.7 mm / 0.304" | 28 |
| 1/8 Inch BSP | 9.7 mm / 0.383" | 28 |
| 1/4 Inch BSP | 13.16 mm / 0.518" | 19 |
| 3/8 Inch BSP | 16.66 mm / 0.656" | 19 |
| 1/2 Inch BSP | 20.99 mm / 0.825" | 14 |
| 5/8 Inch BSP | 22.99 mm / 0.902" | 14 |
| 3/4 Inch BSP | 26.44 mm / 1.041" | 14 |
| 1 Inch BSP | 33.25 mm / 1.309" | 11 |
| 1-1/4 Inch BSP | 41.91 mm / 1.650" | 11 |
| 1-1/2 Inch BSP | 47.80 mm / 1.882" | 11 |
| 2 Inch BSP | 59.61 mm / 2.347" | 11 |
| 2-1/4 Inch BSP | 65.71 mm / 2.587" | 11 |
| 2-1/2 Inch BSP | 75.18 mm / 2.96" | 11 |
| 3 Inch BSP | 87.88 mm / 3.46" | 11 |
| 4 Inch BSP | 113.03 mm / 4.45" | 11 |
| 5 Inch BSP | 138.43 mm / 5.45" | 11 |
| 6 Inch BSP | 163.83 mm / 6.45" | 11 |